Tanker Jetting Services
Are you looking to remove silt and debris from a larger sewer system? If so, you've come to the right place. Tanker jetting uses a higher flow of water at a low pressure to remove blockages – delivering a quick and thorough clean.
There are many tanker jetting services across London and the southeast, but few offer more expertise and reliability than us at Accelerated Drain Services.
Tanker jetting at Accelerated Drain Services
Here at ADS, we have a fleet of high-flow truck-mounted jetting units at our disposal – ready to tackle even the most complex of blockages. Our powerful vehicles can be used to empty, clear and clean any part of your drainage system that may be clogged with water waste or debris – allowing water to flow smoothly.
With our specialist fleet, equipment and fully-qualified engineers, our tanker jetting services are the perfect solution for:
Removing blockages caused by household waste and small industrial debris
Removing grease and fat deposits
Removing solid objects lodged into the pipework
Stripping hardened deposits that have built-up over time
Cleaning and flushing as part of scheduled/planned maintenance programs
Health and safety are paramount for us at ADS, and as registered waste carriers, we maintain high environmental standards by removing, transporting and disposing of waste, including sand, sludge, gravel and dust.
Contact Accelerated Drain Services
Whatever it may be, whether it be pre-planned maintenance, an unusual or emergency call-out, we can help.
If you would like to know more about tanker jetting, please don't hesitate to get in touch. The team is always on hand to help and will be more than happy to answer your question and share their expertise. Feel free to complete the enquiry form below or drop us an email at info@london-drainage.co.uk. Alternatively, if you would like to arrange an appointment to discuss your tanker jetting requirements in more detail, call 0208 594 7171 today.
Scheduling routine drain cleaning will help to eliminate blockages and in turn, reduce the need for tanker jetting – not to mention, save you the hassle and expense of repairs.
Call us today to arrange your tanker jetting appointment.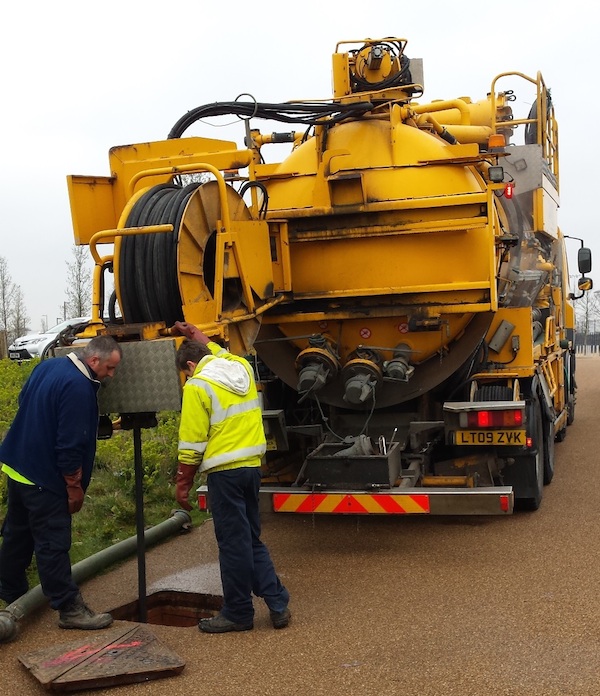 Frequently Asked Questions
What is tanker jetting?
Tanker jetting is an environmentally friendly yet efficient way of clearing larger sewer systems.
This drain clearing method works by using a high flow of water at a low pressure to break down and remove any silt, grease and debris that could cause a blockage.
Once the drainage system has been cleared using tanker jetting, you should try to schedule routine cleaning – maybe once a year. This will allow you to maintain a healthy drainage system, preventing any further issues from occurring.
Tanker jetting can also be used on a regular basis to prevent any blockages building up.
If you're unsure if tanker jetting fits your requirements, speak to our experts today on 0208 594 7171 or email info@london-drainage.co.uk.
When is tanker jetting needed?
Usually, the first tell-tale sign that something is wrong with a sewer system is an unpleasant smell.
The second obvious sign is unusually slow drainage.
Getting in touch with a drainage expert as soon as you notice anything that suggests the drain might not be flowing properly may save you from an expensive, more complex blockage later down the line.
Tanker jetting is perfect for larger drainage systems, preventing blockages building up and getting rid of any blockages that may have already developed.
Sewer blockages are often caused by:
• Grease and other fatty deposits
• Household waste and small industrial debris
• Solid objects that have become lodged
Tanker jetting doesn't need to be your last resort. Prevention is key – tanker jetting great way to flush out your drainage system and prevent any blockages forming.
How much does tanker jetting cost?
Costs for tanker jetting start at around £150-£200, however the price you pay will be affected by many factors.
The reason jetting is required is often the main factor when it comes to pricing. If the sewer system is blocked, you can expect to pay slightly more than for a preventative routine flushing. This is because locating the blockage and clearing it will require more expertise.
The severity of the blockage will also influence the price.
Materials accumulate in drains. If these materials are cleared early, when the blockage is small, then the process won't take very long – a couple of hours at most. If the blockage has been left to pile up for a while, it will take much longer to clear and therefore will cost more.
Because each job is so unique, it's difficult to give a price without understanding your own requirements.
But one thing is for sure, we can guarantee tanker jetting is far more affordable than replacing your whole drainage system.
Get in touch with us today to discuss pricing.
Contact Us
Why should I choose Accelerated Drain Services?
When it comes to cleaning your drains, you want to employ the best in the business.
Here at Accelerated Drain Services, we have over 15 years of experience carrying out drainage clearing and surveying across London.
We're proud members of the National Association of Drainage Contractors and always ensure to carry out our services to the highest possible standards. We're also registered waste carriers, so you can rest assured we will dispose of the waste for you following high environmental standards.
We don't just do our job and leave. We make sure your drainage issues have been taken care of properly. In the unlikely event there's still a problem, we will advise you of the best way to sort it.
No job is too large or too small. Having worked on plenty of commercial and domestic sites over our lifetime, we know how to work efficiently and effectively.
We understand drainage issues can be unexpected. That's why we offer a 24 hour emergency call out service. So, you can be sure your problem will be sorted as soon as possible.