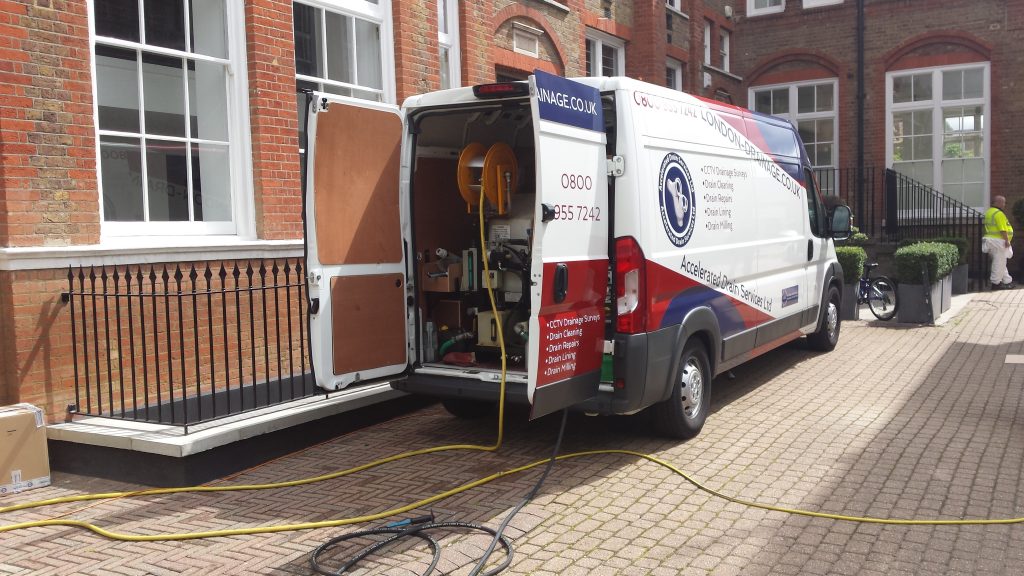 High-Pressure Water Jetting Services
Are you concerned that your drains in London will block? Relax, Accelerated Drain Services Ltd are experts in high-pressure water jetting and have the perfect solution to keep your drainage system in working order.
High-pressure water jetting is the use of water at (ultra) high pressures and speeds to cut through almost all sold materials from a system that includes an engine, pump, water storage tank hose and special nozzle. High-pressure water jetting is employed by many as the ideal way to deep clean and unblock most drainage systems – thanks to its versatility.
High-Pressure Water Jetting at Accelerated Drain Services
Specialising in water jetting, ADS consider no task too big or small. We use our high-pressure water jets to effectively remove surface coatings and build-up that would normally have to be removed using chemicals or mechanical techniques. High-pressure water jetting makes it easier for us to target those difficult to reach areas – ensuring a thorough clean.
The way water jetting works is straightforward. Water is condensed, pressured and passed through a small hole of the jet nozzle which results in a high-pressure water stream. It can include just pure water or water with abrasives and other cleaning chemicals – depending on the job at hand.
All of the engineers here at ADS undergo extensive training prior to work placement. They are trained on how to use the equipment safely, including units that operate at pressures ranging from 3,000psi to 10,000psi.
Our water jetting units are great for industrial cleaning, surface preparation and decontamination. They can break down debris – not to mention years of scale and cement. High-pressure water jetting is also an excellent choice for cleaning and clearing floors, rubbish chutes and skips – offering a quick and low-cost solution for common drainage and environmental issues.
For the best results, we highly recommend you take advantage of our water jetting services, in addition to service and maintenance work, to prevent serious problems further down the line.
Contact Accelerated Drain Services
If you have any questions about high-pressure water jetting, or would like to discuss your requirements in more detail, please get in touch with us on 0208 594 7171 or drop us an email at info@london-drainage.co.uk. To arrange an appointment, complete the online enquiry form below.
Contact our team today to arrange an appointment
Frequently Asked Questions
How does high-pressure water jetting work?
Electro-mechanical drain cleaning is a technique frequently used to purge and descale drainpipes.
A motor is used to drive a cable through the pipe. In a similar way to a drill, it constantly rotates the cable in a clockwise direction whilst water is fed through the pipe to flush out any obstructions or blockages.
Depending on the extent of the blockage, the cable can be fitted with various cutters. This is particularly ideal for robust blockages – as well as residue build-ups such as limescale, uric scale and concrete deposits – helping to restore normal drainage function.
What are the benefits of high-pressure water jetting?
Though we might be slightly biased as high-pressure water jetting specialists in London, this technology offers a quick and environmentally friendly solution for sewer and drainage problems, as well as descaling pipework.
Clearing and cleaning drains in this way is extremely cost-effective, which is ideal if you have a sensitive timeframe and fixed budget.
It's also helpful to know that our high-pressure water jetting engineers are flexible, and will tailor their services around your busy schedule – ensuring minimal disruption for you, your staff, visitors, and anyone else in the surrounding areas.
When compared to other cleaning methods, using high-pressure water jets is faster, cleaner and more efficient. As a result of taking less time, hydro-jetting exposes fewer people to possible contaminants and poses no health risks.
To find out more about the advantages of high-pressure water jetting in London and what we can do to help you, fill out our online enquiry form and we'll be in touch soon.
How much does high-pressure water jetting cost in London?
The cost of high-pressure water jetting in London can vary depending on numerous factors – including the company you choose and whether or not they have call-out fees.
Some drainage contractors offer a free call-out service, which means you needn't worry about there being any hidden charges. However, this is not something they all provide, so it's worth double-checking.
Other factors that influence the cost of high-pressure water jetting include:
• how accessible your property's drainage system is
• the size of your system
• the location and extent of the blockage
• any other vulnerabilities or concerns in your pipes
That's why, here at ADS, we will conduct a CCTV drain survey before we use our high-pressure jets so we can identify the location of the blockage and any other potential defects throughout your system.
If you'd like to receive a free, no-obligation quote for high-pressure water jetting in London, you can either call us on 0208 594 7171 or email your requirements to info@london-drainage.co.uk, and we'll get back to you as soon as we can.
Why should I make ADS my first choice for high-pressure water jetting?
At ADS, we can assure you that all our engineers have undergone their training and have the relevant qualifications to use high-pressure water jets safely and efficiently.
Aside from carrying out every task safely, we also make sure that no stone is left unturned and ensure a thorough clean – even for those hard to reach areas within the pipework!
Another thing worth noting about our high-pressure water jetting services in London is that we guarantee some of the most competitive prices around, allowing you to benefit from a professional solution without breaking the bank.
Our team is always on hand to help. Therefore, if you have any questions or queries, you're welcome to contact us at any time.
For more reasons why you should choose ADS for high-pressure water jetting in London, get in touch today.