Leading supplier of CCTV Drain reports in London
Suspect there's something wrong with your drains?
There are plenty of tell-tale signs to keep an eye out for, including foul smells, blocked sinks and flooded dishwashers or washing machines. However, the easiest – and most cost-effective – way to diagnose a problem is to arrange a CCTV drainage survey.
Instead of digging any holes or trenches, a state-of-the-art camera is inserted into the drainage system – locating any blockages, leaks and other damages that require urgent attention.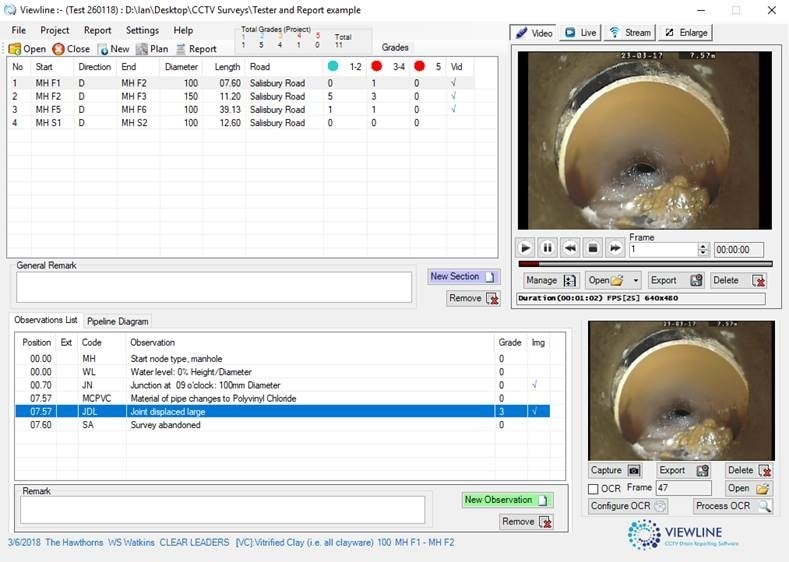 After the survey, a CCTV drain report will be compiled – detailing what the problem is and what could have caused the issue in the first place. But that's not all.
A full CCTV drainage report should include:
a plan showing the layout of the drainage system
pipe materials
diameter of pipes
usage of the drain (i.e. stormwater or foul water)
the direction of flow
the length of the drain
any connections or water level observations
a page dedicated to findings, observations and recommendations for repairs or remedial work
Here Accelerated Drain Services Ltd, we specialise in CCTV drain reports in London and provide all clients with thorough details – clearly showing the condition of your drains and highlighting any issues.
All our CCTV drain reports are produced by certified drainage surveyors using WRc™ approved reporting software programmes, including Viewline and Wincan. Reports are provided in PDF format and are normally produced – and provided to clients – within 48 hours of the survey being completed.
Below is an example of a CCTV drainage report and also includes mapping and manhole chamber reports.
We provide reports to both domestic and commercial clients in the same easy to read and understand format and comply with the Manual of Sewer Condition Classification 5th Edition.
Want to know more about our CCTV drain reports? No problem. Our drainage specialists are here to help and have unrivalled experience when it comes to drain surveys and reporting. We will be more than happy to share our expertise and answer any questions you have.
Alternatively, if you would like to discuss your requirements with a member of our team, or to take advantage of our CCTV drain reports, don't hesitate to get in touch. You can either call us on 0208 594 7171 or send an email to info@london-drainage.co.uk and we'll respond to your enquiry as soon as possible.
Frequently Asked Questions
How much does a CCTV drain report cost?
The cost of a drain report can vary depending on several factors – most notably, the size of your property, the complexity of your drainage system, the number and severity of blockages, and your location.
For properties with a complex drainage system, it's likely to be more difficult to navigate, requiring specialist equipment and more time. Larger properties tend to have more drainage pipework than smaller ones, which means it will take longer to complete the survey. The longer it takes, the more it will cost.
Here at ADS, we specialise in CCTV drain reports in London, covering all areas in the capital.
Our surveys are carried out by NADC (National Association of Drainage Contractors) certified engineers who will use state-of-the-art equipment to inspect the condition of your drainpipes.
We will provide a detailed report (including HD images) to outline the findings from the survey within 48-hours. Not only will this allow you to see what state your drainage system is in, but it also ensures you receive maximum value for money.
Contact Us
Will an engineer talk me through their findings?
Absolutely. Our engineers use innovative WinCan and Viewline software to compile a thorough CCTV drain report that's easy to understand – and yours to keep.
Although the drain report will show the condition of the drains, highlight any potential issues, and outline the appropriate remedial action required, our team will be more than happy to explain their findings to you in layman terms.
So, when you receive the report, have a quick read over it. If there's anything you're unsure about, or if you have any questions, be sure to speak up and our NADC surveyors will do everything they can to provide you with the information you need.
Contact Us
How do I arrange a CCTV drain report?
To book a CCTV drain survey in London, all you need to do is call 0208 594 7171.
Here at ADS, we provide drainage surveys and reports for domestic, commercial, and industrial clients across the capital. We will offer a fair price, taking into consideration your specific requirements.
Once you're satisfied with the cost, the next step is to organise a suitable time and date to conduct the survey. This will be carried out by our industry experts who have all the necessary tools and skills to complete the inspection safely and efficiently.
Contact Us