Commercial Drainage Contractors Lambeth
If you suspect you have a problem with your drains, make London Drainage your first port of call – we can handle all your drainage needs.
Our commercial drainage contractors in Lambeth offer a comprehensive range of services – including (but not limited to) CCTV drain surveys, toilet unblocking, drain cleaning, and relining.
As part of our drainage survey service, we can take a closer look at the condition of your commercial drainage in Lambeth by attaching a camera to a long cable and inserting it directly into your drain. This will allow our specialists to quickly locate blockages and identify potential issues before they fester into more serious problems – saving your business from disruption and closure.
Using the footage from our CCTV surveys, we can provide recommendations for repairs and maintenance, helping to keep your drainpipes clear from limescale build-up and debris – ultimately reducing the risk of future blockages.
Arranging for a professional to look at your commercial drains in Lambeth may seem like an unnecessary expense for your business, but it will give you the peace of mind that your drainage system is functioning as normal. You needn't worry about having to pay for costly repairs or replacements.
To discuss your needs in further detail with our commercial drainage contractors in Lambeth, feel free to call 0208 594 7171.
---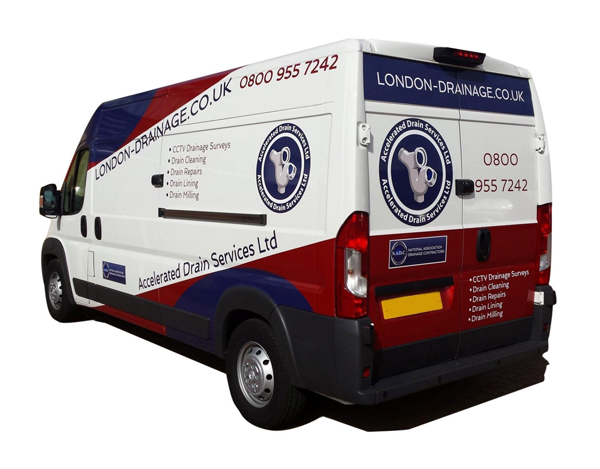 Accelerated Drain Services (ADS) has been serving businesses in Lambeth for over 20 years and is proud to offer a full range of commercial drainage services including CCTV Drain Surveys, drain mapping, drain unblocking & drain repair.
We have built our reputation on the importance we place on friendly, professional customer service and tailoring our service to meet your commercial drainage needs.
To book a free, no obligation drainage inspection with one of our engineers, call us on 0208 5947171.
Commercial drainage services are available in the following Lambeth postcodes: SE11, SE19, SE1, SE21, SE24, SE27, SE5, SE11, SW12, SW16, SW2, SW4, SW8, SW9
Drainage Services Lambeth