Home Buyers CCTV Drain Surveys London
Buying a home is a costly and involved process which is why it's so vital that prospective buyers are aware of any potential risks and faults with the drainage system before they commit to buy. Leaking drains for example, are responsible for subsidence in 40% of cases but, here at London Drainage Ltd, our home buyer's surveys give full visibility into the work that's required.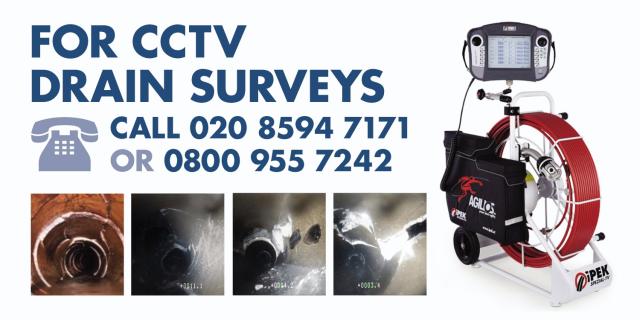 What is a Home Buyers Drain Survey?
A home buyer's drainage survey is where a camera is carefully inserted into the drain to assess its condition, depth and direction. It's also used to ascertain drainage system ownership – be it private or water company, or a combination of the two – which is important information when buying a property. The survey will locate existing and potential problems in the drainage system – from minor maintenance work, such as blockages that can be easily dealt with to major faults that can be very disruptive, time-consuming and most of all costly. Serious drainage problems can cost thousands to repair, so a CCTV drainage survey, carried out by certified drainage surveyors, is critical.
The London Drainage team of surveyors will happily talk you through the process so you know exactly what's to be expected from a home buyers CCTV drain survey. Our NADC (National Association of Drainage Contractors) qualified engineers and surveyors are fully trained and will provide a comprehensive report to explain their findings.
Arranging a home buyers drainage survey will give you the peace of mind that the drainage system is in good condition before you exchange contracts – saving you money on repairs and maintenance work once you've moved in.
Why have a Home Drain Survey carried out by ADS?
An ever increasing number of mortgage lenders, insurers and solicitors will request a home buyers CCTV drain survey as it provides vital information, such as drain mapping (outlining the drainage system location and components) and mis-connections which need rectifying before the problem gets worse.
Without a CCTV Drain Survey you won't know what condition drains are in. A home buyers drain survey will provide a thorough assessment, highlighting if any repairs are required – they can also detect vermin or rat infestations too.

Contact London Drainage
If you'd like to know more about our home buyers CCTV drain survey, please get in touch with us on 0208 594 7171 or drop us an email at info@london-drainage.co.uk. If you need a CCTV Drain Survey for your business premises, see our commercial CCTV drain surveys.
Here are some of the reasons to have a Home Buyers Drainage Survey carried out by a certified drainage surveyor from London Drainage on a property you are buying or selling.
Structural Condition Reporting/analysis
Mis-connections identification and reporting
Drainage system ownership - Private / Water Company
Mapping - drawing to show drainage system locations and components
Mortgage lenders may/will request a drain survey, the rance company may/will request a drain survey. These reports will satisfy all parties including solicitors for CON29DW's (Water Searches)
Homebuyers may not be aware that a survey could provide all of the above information which is extremely important.
Water company could be for-warned about defects on their asset, saving time and money on repairs and preventing the buyer from inheriting problems.
Most RICS building surveyors do not carry the equipment to carry out an in-depth survey to a critical part of the structure, everything else can be properly inspected apart from the drainage system.
Buyers are often left in the dark about the condition of drains which are often out of sight, out of mind and can often be in a very poor condition.
Insurance companies are often covering defective drainage as they are unaware of the true condition, a growing number now request a drain survey before offering cover.
Detection of Vermin / Rat Infestation within the drainage system
<
Frequently Asked Questions
What's involved in a home buyers CCTV drain survey?
A home buyers drain survey is like any other CCTV drain survey. It's used to deliver a thorough review of your drains and can help to identify major and minor issues – including collapsed drains, tree root ingress, blockages, corrosion, animal intrusion and leaks to name just a few.
When you arrange a home buyers CCTV drain survey, an experienced technician will come to your property with a range of tools and equipment – ready to take a closer look at the inside of your drainage systems.
Typical examples include:
– a waterproof camera
– access rods
– crawlers
– sonar units
When is the best time to arrange a home buyers CCTV drain survey?
A CCTV survey is an indispensable tool for various situations, but particularly if you're thinking about purchasing a property.
We suggest that you arrange a home buyers CCTV drain survey – also known as a pre-purchase drain survey – before you purchase a new house.
The survey will allow an engineer to examine the current condition of the property's drainage system and highlight any issues or areas that need repairing. A CCTV drain report will be provided and, using this, buyers can make an informed decision before they agree to sign any contracts.
How Much Does A Home Buyers' CCTV Drain Survey Cost?
The price you'll pay for a home buyers' CCTV drain survey is dependent on several factors – including your location, the size of the property, the complexity of the drainage system, and the number/type of blockages.
As with most things, larger properties with more complex systems will have higher survey costs. If the drains aren't easily accessible, this makes the engineer's job harder, and will impact the overall cost.
Here at Accelerated Drain Services (ADS), we specialise in home buyers' CCTV drain surveys in London. Although we'll carry out a thorough inspection of the drainage system at your potential new home, we pride ourselves on offering fair, transparent prices.
To receive a free, no-obligation quote, call our friendly team on 0208 594 7171.
How to arrange a home buyers CCTV drain survey cost?
The team at Accelerated Drain Services Ltd has the expertise to complete CCTV drain surveys quickly and efficiently. The quicker we can establish the issue, the sooner it can be resolved.
If you need a fast, accurate and affordable home buyers drain survey, be sure to get in touch with the team at ADS today and let us know the postcode of the property in question.
We will schedule a convenient time to come and inspect the drains at the property before providing a CCTV drain survey report.
So, what are you waiting for? Give us a call on 0208 594 7171 or email info@london-drainage.co.uk, and we'll get back to you ASAP.
How long does the survey take to complete?
A home buyers' CCTV drain survey is an effective way to map out the existing drainage system and/or locate any blockages or reoccurring problems. It allows prospective homeowners to make an informed decision before they sign any contracts.
The time it takes to complete one of these surveys can vary depending on the length and diameter of the drains and the size of the property.
For example, if the property you're thinking about buying has a small drainage system, it shouldn't take much longer than a couple of hours to conduct the survey and assess the condition of the drainpipes.
A larger house, on the other hand, will probably have more pipework connecting it to the public sewer, which means it will take longer to map and inspect.
Our best advice when arranging a home buyers' CCTV drain survey is to set aside plenty of time.